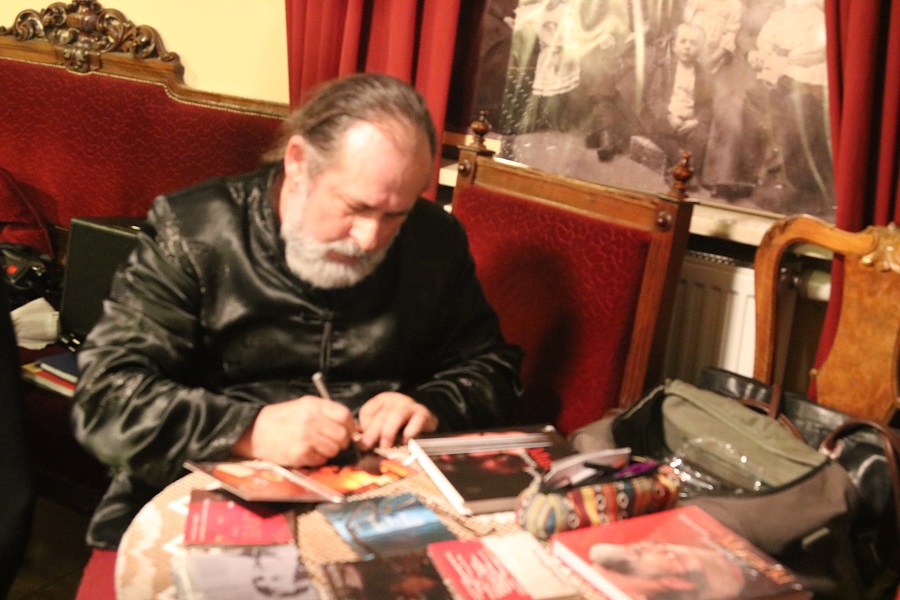 Antoni Muracki to poeta, bard, kompozytor, pieśniarz, wykonawca poezji śpiewanej. Dzięki jego tłumaczeniom na rynek polski trafiły pieśni Jaromira Nohavicy, a następnie wprowadził Nohavicę, jako jego polski menedżer, na polskie sceny. Przez wiele lat również wspólnie koncertował z Jaromirem Nohavicą i doskonale zna wszelki niuanse twórczości czeskiego barda. Przetłumaczone przez Murackiego teksty nie są prostą kalką metafor Nohavicy. Są one sugestywne, logiczne i niezwykle poetyckie, z pięknym słownictwem i poruszającymi wyobraźnię metaforami.
Antoni Muracki śpiewa te piosenki od lat, większość z nich spopularyzował i wydał na płytach. Podczas tego wieczoru w Izbie również wykonał wiele pieśni Jaromira Nohavicy. W programie znalazły się także jego własne utwory, których jest autorem i kompozytorem. Po koncercie w księdze pamiątkowej Izby Antonii Muracki napisał: Moi Kochani! Cóż to za sympatyczne miejsce i ludzie, cóż za atmosfera… Świetnie mi się z Wami śpiewało i było. Dziękuję.
My również dziękujemy – to był wspaniały koncert, a rozmowy z wykonawcą trwały jeszcze po koncercie, przy tradycyjnym poczęstunku, do późnych godzin wieczornych.
Dodano 25.08.2020 r.